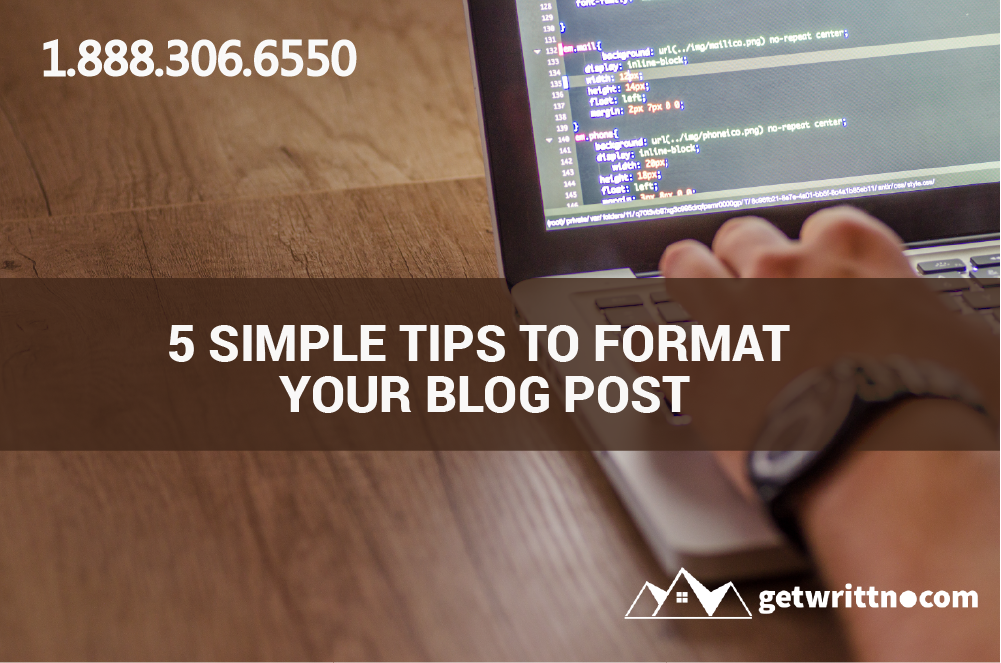 5 Simple Tips to Format Your Blog Post
When creating viral blog posts, you must think about much more than just the content of the post — you must also think about its formatting. For example, what would you do if you clicked into an online article and it had long, thick blocks of text, very few images, no subheads, and was long — like 3,000 words long? Would you be excited to read the article or would you quickly click out?
The way you format the post must be visually appealing. You generally have just 10 to 20 seconds to capture the attention of your audience and make them want to continue reading. If they cannot find information quickly, they will quickly close out of a blog page and find a website that does. This not only hurts your own traffic but it affects your SEO as well. Let's talk about five simple things you can do when formatting and creating viral blog posts.
 1. Use Subheadings
One of the easiest and most effective ways to format your blog posts is to use subheadings. These help separate the information throughout your article and improve the post's readability score. Additionally, using subheadings with your keywords is an excellent way to make your blog post more search-engine friendly. Just make sure that when using subheadings, you don't have long blocks of texts following each one.
2. Use Images
In addition to avoiding blog posts with long blocks of texts, you don't want posts that are strictly all words. You need some visual content to quickly and effectively capture the attention of all of your readers. While a general photo may suffice, mix things up throughout your various blog posts. For example, use banner images, infographics, customized images, etc.
If you choose stock images, check out this article to help you choose images that will actually entice and be visually appealing.
3. Use Lists
A great way to break up content, make your blog posts more visually-appealing, and provide valuable information to your readers in a short amount of time is to create lists. A few things to keep in mind as you write lists include:
Use both bullets, numbers, etc.
Make sure all points have valuable information and are beneficial
Avoid creating long lists
Keep all of your bullet points short and to the point
See how easy it is to include lists in your blog posts?
4. Don't Be Afraid of Spaces
In the newspaper world, whitespace was a dreaded thing. For newspaper editors, that was space that could be sold for money.  But in the online world, it is not something to be feared. In fact, it is more visually appealing. Create short paragraphs and sentences throughout your blog posts. This is particularly important if you are working on long forms of content.
5. Be Consistent
No matter how you choose to format your blog posts, make sure you are consistent from one post to the next. Readers don't want to be confused when they click through your articles. This not only helps improve the look and feel of your blog, but it also helps build your credibility and makes your blog appear more professional as well.
Don't forget that formatting your blog post should be included in your content marketing strategy. It should not be left as an afterthought. Make sure you include the creation of visuals, the uploading process, etc.
If you feel overwhelmed formatting and creating viral blog posts, let the experts handle it. The professionals at GetWrittn can work with you to create a blog post that is valuable, informative, and visually appealing.